Home » Reviews »

Talkliv
Talkliv allows you to simply contact individuals on the website thanks to its contemporary design and simple user interface. After fast signup, this online service will pleasantly surprise you with all the features it has to offer, for instance, live streams, Newsfeed, and a variety of gift options. To find out more, continue reading our review.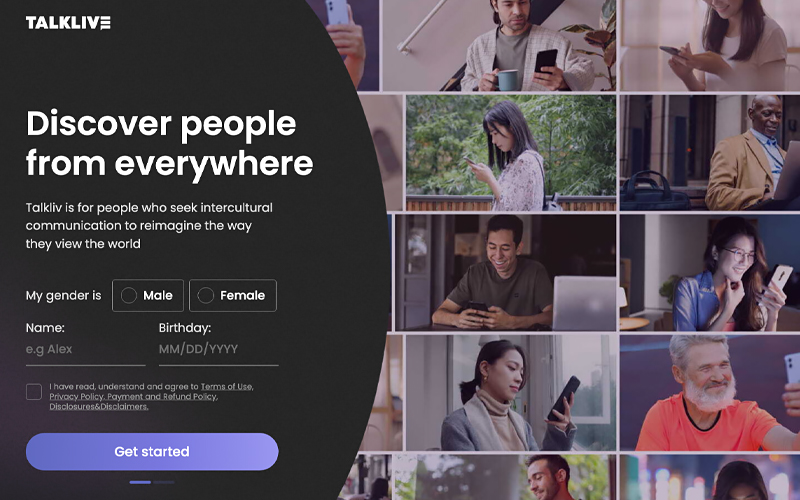 Talkliv in 5 seconds
The number of visits per month: 109,900
Mobile app: no
Matchmaking on site: People—powerful quick-matching tool; basic and extended searches
Messaging on site: local emails, decent chat—both with a feature to add media
Paid or free: the sign-up is free, but to get access to features like messaging, you need to pay. The minimum package of 20 credits costs $9.99, max 750-credit package is $149.99
Who is Talkliv for?
Talkliv is the best option for people who enjoy online text communication, as the platform has thousands of users looking for someone to have fun and meaningful conversations with. The majority of people seek new friends and networking opportunities, just look for some fun time and even search for potential dates from abroad.
Features and Benefits
Talkliv is a relatively new platform for both local and international dating. The site has video streaming, Newsfeed, chat, and other things you expect from a dating site. Its user-friendly interface and modern design are pleasing to the eye. Such things, along with a variety of ways to interact with other users, attract the younger generation to the platform.
The registration process on Talkliv is fast and easy. Unlike other dating sites, it doesn't require your phone number, and it takes just a few minutes to become a new user and start talking to gorgeous girls. So let's check how to find the ideal match with advanced filters and start chatting!
Searching guide 
The Talkliv search tool was pretty intuitive and made finding perfect matches easy and fast, thanks to a handful of filters, including:
Gender (male, female, or both)
Age
Country
Aside from these, we also played around with other requirements, like online and offline members, as well as those we were following. Besides, we tested the Newsfeed and People tabs to try and find matches without using filters and were pretty impressed with the experience. The Newsfeed was especially helpful for our Talkliv review. It let us find four girls to chat with, as we saw their recent posts and candid photos that gave us a better idea of their looks than the heavily edited profile pictures.
Messaging guide
The Talkliv online dating site promotes intercultural communication in many ways, so you don't have to settle for occasional emails. Instead, you can make the quality communication platform's many features, including:
Live chat. You'll get instant access to live chat if the girl you'd like to talk to is online. The chat box will appear on the profile page, along with nice add-ons, like photo attachments, stickers, gifts, and emojis. You can also access your chat history and new messages in the Chats tab.
Live streams. Ongoing streams are available at the top of the Search tab. You can join any live stream for free by clicking on the icon. And once you're in, you can watch the girls and send messages, stickers, and gifts. But remember that live streams are public, not one-on-one conversations.
Winks and "Say Hello" tools. Available in live chat and the People tab, winks and "Say Hello" messages can help you start conversations when you don't know what to say.
While working on this Talkliv.com review, we mostly used live chat to get instant responses from the ladies. However, the few emails we sent also produced fast replies and a few steamy photos. We were also lucky enough to catch a handful of streams, though we only saw a few available at any given time. Hopefully, the feature will catch on because seeing the girls in real time was a treat.
Gift guide
Although the Talkliv dating site advertises virtual gifts as a premium feature, finding the virtual gift store took us a while. Here's what we did and how you can access gift delivery, too:
Select a lady and start chatting.
Click the "Gifts" button under the chat box at the bottom of the page.
Browse available gift categories and pricing.
Top up the credit balance if you don't have enough to cover the cost of the gift.
Include a personal message and press the "Send a gift" button.
The Talkliv website offered an impressive array of virtual gifts, ranging from standard postcards and flowers to unique hobby-related options, like a toolbox or a vintage mic. Besides, we discovered the communication platform offered unique seasonal gift options, like a teddy bear or jewelry for Women's Day. The pricing ranged from 32 (Dark choco) to 2,500 (Diamond heart) credits.
We opted to send some low-range gifts, like Sugar rush (50 credits) or Dirty martini (62 credits), to attract the girls' attention, which seemed to work well. So we recommend you start slow and progress to more expensive gifts once you know your online dating is going somewhere. And remember that ladies can monetize gifts, so some may be overly pushy and demanding. We suggest you seek other users to chat with if their requests make you uncomfortable or are outside your budget.
Pros & Cons
Pros
User-friendly design and intuitive navigation
Easy search for suitable chat partners
Multiple communication ways: chat, mail, and Let's Talk feature
Robust member support
Streams feature with free group chats
Cons
Talkliv's advanced services are paid for male members
No dedicated app, but the site is mobile-friendly
Conclusion
We purchased the most extensive credit package and got 800 for $199.99. That was enough to last us almost a month, with daily messages and short live chats, about half a dozen photos, and hours' worth of free live streams. Overall, Talkliv offered a comfortable and pleasant experience and connected us with a few suitable matches. Considering the Talkliv free registration and welcome bonus, it's definitely worth a try if you're looking for some online fun.